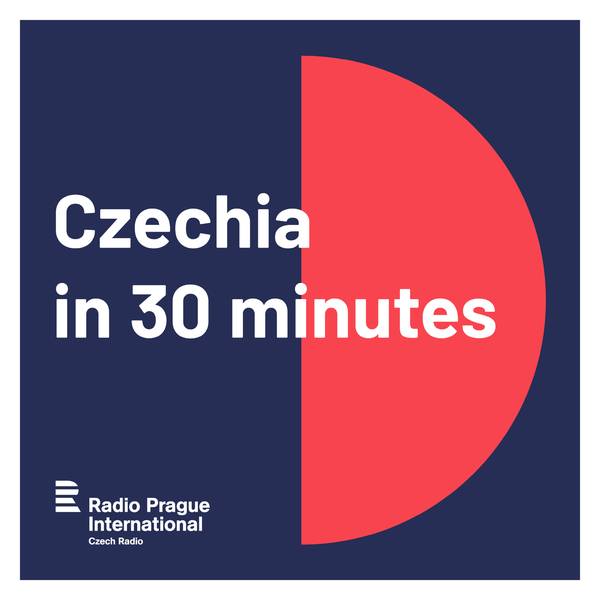 Poslechněte si podcast:

Czechia in 30 minutes (Oct 12, 2023)

News; Slovak border checks extended; Scientists discover Hebrew curses in Bronze Age tablet; the economic cost of excessive alcohol consumption.
Czechia in 30 minutes
All the news in politics, culture, sport and science, along with in-depth reports and fascinating interviews, from Radio Prague International. Everything you need to know about the Czech Republic. Every weekday and Saturday.
Czechia in 30 minutes (Dec.7, 2023)
News, Santini anniversary, new book out introduces rugby to Czech readers, Kikiriki Games studio
Czechia in 30 minutes (December 6, 2023)
News; Food prices in Czechia expected to rise further next year; New project turns schoolchildren into field linguists to try to preserve endangered Czech dialects; Leoš Janáček drew inspiration from the folk music of his native Moravia Silesia
Czechia in 30 minutes (December 5, 2023)
News; People in Need's 'Real Gift' program; Courses for 'driving mentors' ; Unique pieces from former Czechoslovak Embassy in Stockholm to go on sale
Czechia in 30 minutes (December 4, 2023)
News; Czech Centres get new leader with "bold vision"; Hundreds of people set Czech polar bear dip record in Lake Barbora; David Krejčí ends his career; Prageu Comedy Club
Czechia in 30 minutes (December 2, 2023)
The sounds of 1968 and 1969: Jan Palach and the abnormality of normalization
Czechia in 30 minutes (Dec.1, 2023)
News, Holo-harmonies project, football legend Antonín Panenka turns 75, meet Czech digital illustrator whose creations can be seen in Star Wars and Disney
Czechia in 30 minutes (November 30, 2023)
News; Czech hospitals brace for imminent staff crisis; poll suggests most Czechs no longer support military aid for Ukraine; Warhorse Studios: leading Czech maker of video games; new project offers interesting walks through Prague
Czechia in 30 minutes (November 29, 2023)
News; Pundit on Politico's 28 list: Pavel among Europe's "movers and shakers"; Prague's Motol hospital introducing voicebot; An epic literary hoax
Czechia in 30 minutes (November 28, 2023)
News; Prague Main Station for major overhaul; Mendel University tests symbiosis of solar panels and vineyards; New Prague exhibit combines art and NFTs; Czech couple defies fashion stereotypes
Czechia in 30 minutes (Nov. 27, 2023)
News; Schools strike; Petr Čech ; Emil Viklický on finding freedom in jazz