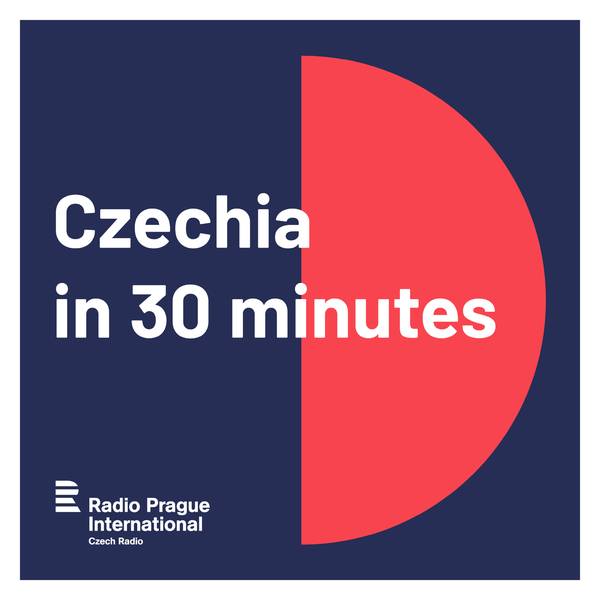 Poslechněte si podcast:

Czechia in 30 minutes (November 14, 2023)

News; debate on regulating energy drinks for kids; first trees planted at Roma Holocaust site; podcast on Utoya massacre in English; New Czech short story collection in UK.
Czechia in 30 minutes
All the news in politics, culture, sport and science, along with in-depth reports and fascinating interviews, from Radio Prague International. Everything you need to know about the Czech Republic. Every weekday and Saturday.
Czechia in 30 minutes (November 29, 2023)
News; Pundit on Politico's 28 list: Pavel among Europe's "movers and shakers"; Prague's Motol hospital introducing voicebot; An epic literary hoax
Czechia in 30 minutes (November 28, 2023)
News; Prague Main Station for major overhaul; Mendel University tests symbiosis of solar panels and vineyards; New Prague exhibit combines art and NFTs; Czech couple defies fashion stereotypes
Czechia in 30 minutes (Nov. 27, 2023)
News; Schools strike; Petr Čech ; Emil Viklický on finding freedom in jazz
Czechia in 30 minutes (Nov. 24, 2023)
News; Salvation Army; pensioners read in kindergartens; Comedy club in Žižkov
Czechia in 30 minutes (November 23, 2023)
News; Czech attitudes towards Roma people improving, but prejudice still persists; Locika Centre: Child victims of domestic violence suffer secondary trauma during questioning; Czech Gaming series
Czechia in 30 minutes (November 22, 2023)
News; Prague pushing to restrict movement of Russian diplomats; Special device shows lung cells killed by Prague's air traffic pollution
Czechia in 30 minutes (November 21, 2023)
News; will a new EU law deliver pay equality in Czechia?; Prague theatre to stage English-speaking live radio plays; coach quits moments after Czechs reach Euros; Canadian ice hockey players in Czechia
Czechia in 30 minutes (November 20, 2023)
News; Charter 77 signatory stages hunger strike over low pensions for ex-dissidents; experts sound alarm bells for children's mental health in Czechia; UK historian Timothy Garton Ash on the Velvet Revolution and where Europe is headed today
Czechia in 30 minutes (November 18, 2023)
Leading child cardiologist Jan Marek on the challenges and rewards of healing young hearts
Czechia in 30 minutes (November 16, 2023)
News; Czechia freezes Russian state-owned property; Events happening on November 17th; War simulations, life in Czechia and educational games